Learn Italian > Italian lessons and exercises > Italian test #91641


Dom Vasco da Gama
Dom Vasco da Gama
Questa è la storia di un grande navigatore portoghese, Vasco da Gama, primo Europeo a navigare direttamente fino alle Indie doppiando il Capo di Buona Speranza.
Figlio di una famiglia nobile, Vasco da Gama nasce a Sines in Portogallo nel 1469. Da giovane, partecipa a varie spedizioni in mare. L'otto luglio del 1497, Vasco da Gama parte da Lisbona sulla sua ammiraglia la 'Sao Gabriel' insieme ad altre tre navi, incaricato da Re Manuele 1° di stabilire la prima rotta navale per l'India circumnavigando l'Africa.
Oltrepassa il Capo di Buona Speranza il 22 novembre 1497, capo precedentemente doppiato* da Bartolomeo Diaz nel 1488. Il 25 dicembre approda in una baia, nel Sudafrica che chiamerà 'Natal' (l'attuale Durban). Prosegue la navigazione e raggiunge l'India meridionale il 18 maggio 1497 nella regione del Dekkan, proprio a Calicut.
A Calicut, offende il Governatore in seguito a doni di scarso valore che gli fa... Il Governatore di Calicut, con l'aiuto dei mercanti arabi, desiderosi di proteggere i loro interessi, lo costringe a ripartire. Dopo undici mesi di navigazione (dal 5 ottobre al 9 settembre 1499 ), arriva a Lisbona dove, insieme al suo equipaggio, viene accolto come un vero trionfatore!
Il suo periplo è durato due anni.
Nel 1502, Vasco da Gama riparte per l'India con una nuova flotta. Lì, stabilisce colonie e vari commerci, e soprattutto impone il monopolio del commercio delle spezie tra le Indie e l'Europa.
Nel 1524, Il Re Giovanni III lo nomina Viceré delle Indie. Purtroppo, approfitta poco di quest'onore perché muore nella città di Cochin il 24 dicembre 1524.
* Doppiare, nel linguaggio marittimo, significa aggirare un luogo passando più al largo.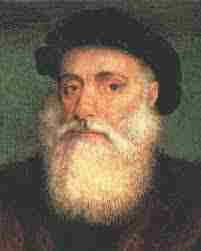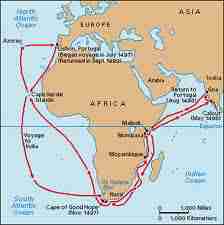 Esercizio:
Per rispondere alle domande, dovrete assolutamente leggere il testo da me proposto… Buon lavoro!!

Twitter Share
Italian exercise "Dom Vasco da Gama" created by jod47 with The test builder. [More lessons & exercises from jod47]
Click here to see the current stats of this Italian test



Please log in to save your progress.
---
End of the free exercise to learn Italian: Dom Vasco da Gama
A free Italian exercise to learn Italian.
Other Italian exercises on the same topics : Geography, history, politics, literature... | Business | All our lessons and exercises