DAL NEGOZIANTE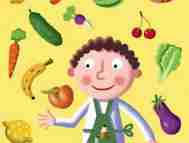 AT THE GROCER's
Buongiorno, vorrei mezzo litro di latte parzialmente scremato e dieci uova.
Hello sir, I would like a pint of semi skimmed milk and ten eggs.
Ecco qua, cos'altro?
Here they are, what else?
Vorrei pure due chili di pomodori e dello zucchero.
I need two kilos of tomatoes and some sugar too.
Lo zucchero lo vuole bianco o di canna?
All right, cane sugar or white sugar?
Di canna grazie. Avrebbe degli asparagi?
Cane sugar, will do. Do you have asparagus?
Guardi sono qua, gliene metto un mazzo?
Yes, right here. Do you want a bunch?
Sì, grazie e mi aggiunga pure un etto di Parma.
Yes, thank you. Finally I'll take 100g of Parma Ham.
Basta così? 26,30 € prego ... ed ecco a lei lo scontrino.
Anything else? It's 26,30€, here is your receipt.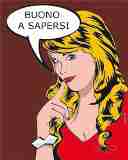 EXTRA VOCABULARY