Learn Italian > Italian lessons and exercises > Italian test #84561


Geografia
UN PO' DI GEOGRAFIA

In Italia ci sono 20 regioni divise in 103 Province.

Qui sotto ci sono i nomi delle regioni, con il numero sulla mappa, le province di ogni regione e il loro capoluogo (sottolineato).




- ABRUZZO: L'Aquila, Chieti, Pescara, Teramo;

- BASILICATA: Potenza, Matera;

- CALABRIA: Catanzaro, Cosenza, Crotone, Reggio Calabria, Vibo Valentia;

- CAMPANIA: Napoli, Caserta, Benevento, Avellino;

- EMILIA-ROMAGNA: Bologna, Ferrara, Forlì, Modena, Parma, Piacenza, Ravenna, Reggio Emilia, Rimini;

- FRIULI-VENEZIA GIULIA: Trieste, Gorizia, Pordenone, Udine;

- LAZIO: Roma, Frosinone, Latina, Rieti, Viterbo;

- LIGURIA: Genova, Imperia, La Spezia, Savona;

- LOMBARDIA: Milano, Bergamo, Brescia, Como, Cremona, Lecco, Lodi, Mantova, Pavia, Sondrio, Varese;

- MARCHE: Ancona, Ascoli Piceno, Macerata, Pesaro-Urbino;

- MOLISE: Campobasso, Isernia

- PIEMONTE: Torino, Alessandria, Asti, Biella, Cuneo, Novara, Verbano-Cusio-Ossola, Vercelli;

- PUGLIA: Bari, Foggia, Brindisi, Lecce, Taranto;

- SARDEGNA: Cagliari, Nuoro, Oristano, Sassari;

- SICILIA: Palermo, Agrigento, Caltanisetta, Catania, Enna, Messina, Ragusa, Siracusa, Trapani;

- TOSCANA: Firenze, Arezzo, Pisa, Pistoia, Lucca, Livorno, Siena, Grosseto, Prato, Massa, Carrara;

- TRENTINO-ALTO ADIGE: Trento, Bolzano;

--UMBRIA: Perugia, Terni;

- VALLE D'AOSTA: Aosta;

- VENETO: Venezia, Belluno, Padova, Rovigo, Treviso, Verona, Vicenza.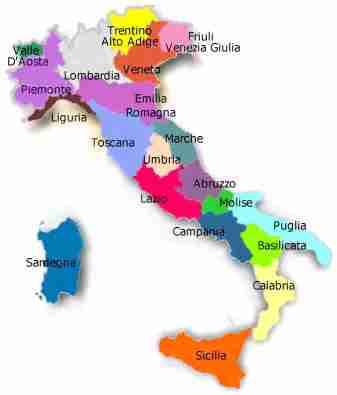 Twitter Share
Italian exercise "Geografia" created by anonyme with The test builder.
Click here to see the current stats of this Italian test



Please log in to save your progress.
---
End of the free exercise to learn Italian: Geografia
A free Italian exercise to learn Italian.
Other Italian exercises on the same topic : Countries and nationalities | All our lessons and exercises