Learn Italian > Italian lessons and exercises > Italian test #83278


Pinocchio is hungry
Pinocchio ha fame e cerca un uovo per farsi una frittata.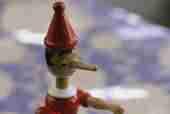 Intanto cominciò a farsi notte e ,Pinocchio, ricordandosi che non aveva mangiato nulla, sentì un'uggiolina allo stomaco che somigliava moltissimo all'appetito.
Ma l'appetito nei ragazzi cammina presto e di fatti, dopo pochi minuti, l'appetito diventò fame e la fame, dal vedere al non vedere, si convertì in una fame da lupi, in una fame da tagliarsi col coltello.
Il povero Pinocchio corse subito al focolare, dove c'era una pentola che bolliva, e fece l'atto di scoperchiarla per vedere che cosa ci fosse dentro: ma la pentola era dipinta sul muro. Immaginatevi come restò. Il suo naso, che era già lungo, gli diventò piú lungo almeno quattro dita.
Allora, si dette a correre per la stanza e a frugare per tutte le cassette e per tutti i ripostigli in cerca di un po' di pane, magari un po' di pan secco, un crosterello, un osso avanzato al cane, un po' di polenta muffita, una lisca di pesce, un nocciolo di ciliegia. Insomma, qualche cosa da masticare: ma non trovò nulla, il gran nulla, proprio nulla.
E intanto la fame cresceva, e cresceva sempre: e il povero Pinocchio non aveva altro sollievo che quello di sbadigliare e faceva degli sbadigli così lunghi, che qualche volta la bocca gli arrivava fino agli orecchi. E dopo avere sbadigliato, sputava, e sentiva che lo stomaco gli andava via.
Allora, piangendo e disperandosi diceva:
« Il Grillo-parlante aveva ragione. Ho fatto male a rivoltarmi al mio babbo e a fuggire di casa... Se il mio babbo fosse qui, ora non mi troverei a morire di sbadigli! Oh! che brutta malattia che è la fame! »
Carlo Collodi - 1826 / 1890 -



Advanced

Twitter Share
Italian exercise "Pinocchio is hungry" created by chilla with The test builder. [More lessons & exercises from chilla]
Click here to see the current stats of this Italian test



Please log in to save your progress.
---
End of the free exercise to learn Italian: Pinocchio is hungry
A free Italian exercise to learn Italian.
Other Italian exercises on the same topic : Tales | All our lessons and exercises