Learn Italian > Italian lessons and exercises > Italian test #71208


Padre padrone (II) - Gavino Ledda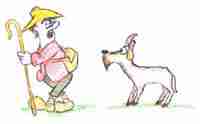 Padre padrone di Gavino Ledda





– Sono venuto a riprendermi il ragazzo. Mi serve a governare le pecore e a custodirle... È mio. E io sono solo. Non posso continuare a lasciare il gregge* incustodito quando vengo qui a Siligo* a portare il latte in caseificio* o a portarmi via le provviste*. Io non faccio solo il pastore. Per tirare avanti onestamente e senza derubare il vicino, mi tocca coltivare una parte della tanca* a grano per il fabbisogno* di casa. Gavino, anche se è piccolo, custodirà le pecore mentre io marrerò il grano* o poterò la vigna* o lavorerò all'oliveto che ho già cominciato a piantare... Come vede da solo non posso fare tutte queste cose stando dietro alle pecore. Incustodite, potrebbero assalirmi la vigna o il grano, e non possiamo stare un anno senza pane... Insomma, lui mi custodirà le pecore mentre io farò tutte le altre cose per procacciare il sostentamento* ai suoi fratelli più piccoli... Io non ne ho di soldi per comprare loro i mezzi di sussistenza*. I liquidi che ricavo dal latte delle pecore bastano a stento* per comprare i vestiti e altre cose che noi pastori non possiamo produrre. Le patate, il grano*, le cipolle*, le fave* le debbo produrre io stesso... Mi spiace riprenderglielo, ma senza di lui non potrei più andare avanti. Questa è stata sempre la storia di noi pastori. Ci sono banditi dappertutto e lei lo sa benissimo, signora maestra.
– Gavino è ancora troppo piccolo! Come potrà custodire le pecore e far paura ai banditi? La sua presenza sarà inutile... Qui imparerà a vivere prima di esporsi alla vita. Gli mancano ancora le penne* per prendere il volo.
– Cosa ne sa lei della pastorizia*? I pastori volano tutti senza ali. ll tono si fece risoluto.- Saprò fare di lui un ottimo pastore capace di produrre latte, formaggio e carne. Lui non deve studiare. Ora deve pensare a crescere. Quando sarà grande, la quinta elementare la farà come fanno molti prima di arruolarsi*. Lo studio è roba da ricchi*: quello è per i leoni e noi non siamo che agnelli

Twitter Share
Italian exercise "Padre padrone (II) - Gavino Ledda" created by bya56 with The test builder. [More lessons & exercises from bya56]
Click here to see the current stats of this Italian test



Please log in to save your progress.
---
End of the free exercise to learn Italian: Padre padrone (II) - Gavino Ledda
A free Italian exercise to learn Italian.
Other Italian exercises on the same topic : Literature | All our lessons and exercises