Learn Italian > Italian lessons and exercises > Italian test #64934


La Compagnia dei Celestini
Extract from 'La Compagnia dei Celestini' by Stefano BENNI - Great!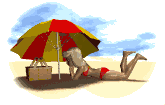 'Il Carpaccio Umano'
Questo antropoide, disinteressandosi dei pareri scientifici sui danni dei raggi ultravioletti, ha nella vacanza un solo obiettivo: l'abbronzatura. Anzi, più che un'abbronzatura, una caramellatura, un flambé. Perché nella tribù d'appartenenza del balnearius non basta più, come nel passato, assumere una coloritura abbronzata per godere di prestigio sociale, ora bisogna possedere una superabbronzatura del tipo cosidetto 'dorato' o 'caraibico'. Per ottenere questa livrea, il balnearius passa attraverso varie fasi:
Prima fase: In questa fase preparatoria, il carpaccio fa abbondante uso di prodotti che 'predispongono all'abbronzatura', misteriosi oli a base d'asfalto. Segue un'abbondante assunzione di succhi di carota e di pastiglie alla carota. Con l'arrivo in spiaggia si passa alla
Seconda fase: Ogni carpaccio ha, a questo riguardo, un suo cocktail segreto. Gli ecologisti mescolano olio d'oliva e saliva di branzino. I meteorologi usano oli diversi secondo la temperatura e l'ora. I terzomondialisti mescolano olio di cocco e jojoba, con odore avvertibile fin fuori dalle acque territoriali. Alcuni carpacci usano oli ancora più pesanti come il terribile 'Brown Sugar' (mallo di noce, inchiostro di seppia e nutella).
Se il balnearius è del tipo 'salma' (otto ore immobile al sole), oppure del tipo 'spiedo' (4 ore su un lato, 4 ore sull'altro), basta stargli a distanza di sicurezza e non è pericoloso. Assai pericoloso, invece, è il carpaccio semovente o carpaccio inquieto (Balnearius Insanus ). L'esemplare di questa specie usa spalmarsi con mezzo litro d'olio: poi si sdraia per pochi secondi, si rialza urlando 'che caldo!', schizza di sugo i presenti e va a tuffarsi in mare.
Qui, intorno a lui, si forma ben presto una chiazza oleosa galleggiante degna di una petroliera di medio cabotaggio. Quindi il carpaccio si bagna la testa, ottenendo un parrucchino di olio, acqua di mare e gel di consistenza cementifera. Ciò fatto, torna al suo posto, si riunge completamente, si gira sul dorso pochi secondi, sbuffa e torna in acqua e così via per tutta la giornata finché tra la sua sdraio e il mare non si è creato un corridoio scivoloso e maleodorante che è la traccia caratteristica del passaggio di un balnearius.

Twitter Share
Italian exercise "La Compagnia dei Celestini" created by jod47 with The test builder. [More lessons & exercises from jod47]
Click here to see the current stats of this Italian test



Please log in to save your progress.
---
End of the free exercise to learn Italian: La Compagnia dei Celestini
A free Italian exercise to learn Italian.
Other Italian exercises on the same topic : Tales | All our lessons and exercises