Learn Italian > Italian lessons and exercises > Italian test #60511


L'uovo più bello
L'uovo più bello
C'erano una volta tre gallinelle: Pallina,Gambetta e Piumetta. Litigavano sempre perché ognuna sosteneva di essere la più bella.
Pallina aveva i vestiti più eleganti. Gambetta aveva le più belle gambe. Piumetta sfoggiava una cresta davvero superba. Siccome non riuscivano a mettersi d'accordo, decisero di chiedere consiglio al Re:
- Quella che deporrà l'uovo più bello sarà proclamata vincitrice e diventerà principessa!-
Per prima toccò a Pallina. Si accomodò tra l'erba, stando benattenta a non sporcars'il vestitino; e dopo pochissimo tempo era di nuovo in piedi. Si fece da parte e tutto intorno si udì un lungo OOOOHHH! di meraviglia.Non si era mai vista una cosa simile: un uovo di forma perfetta, bianco come la neve, senza una macchiolina, liscio e lucente come fosse di marmo.
-Più perfetto di così non è possibile!-Esclamò il Re, e tutti furono d'accordo.
Quando toccò a Gambetta alcuni pensarono che quella poverina non aveva possibilità di vincere: si può superare la perfezione? Dopo una diecina di minuti, ecco Gambetta alzarsi agile e leggera. Il Re batté le mani con entusiasmo: aveva davanti agli occhi un uovo gigantesco, grosso da far invidia ad uno struzzo! - Più pesante di così non è possibile!- Esclamò.
Nel frattempo Piumetta si sistemò al suo posto. Stava con gli occhi bassi mentre tutti la guardavano pensando che non aveva speranza. Poi si alzò. Tra l'erba apparve un uovo quadrato, così straordinario come nessuno aveva visto mai. Gli spigoli sembravano tracciati col righello ed ogni faccia aveva un colore diverso. -Più originale di così non è possibile!- Esclamò il Re.
Non si poteva dire quale fosse l'uovo più bello e nemmeno il Re sapeva cosa fare. E fu così che diventarono principesse tutte e tre: Pallina, Gambetta e Piumetta.
MORALE: ognuno, seppur diverso, ha differenti talenti e qualità.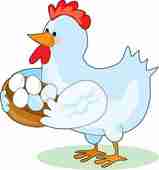 Twitter Share
Italian exercise "L'uovo più bello" created by olivia07 with The test builder. [More lessons & exercises from olivia07]
Click here to see the current stats of this Italian test



Please log in to save your progress.
---
End of the free exercise to learn Italian: L'uovo più bello
A free Italian exercise to learn Italian.
Other Italian exercises on the same topic : Tales | All our lessons and exercises